K/F - Year 9
Word Finder Worksheets
Build literacy skills with our fun and educational Word Finder Activity for K/F – year 9 students. Puzzles like this are excellent for children as they reinforce spelling, boost memory, and build vocabulary.
Boost memory
Improve problem-solving skills
Learn new words
Increase vocabulary
Improve spelling
As an additional challenge, they have to find a word for each given word class – common noun, verb, adjective and adverb.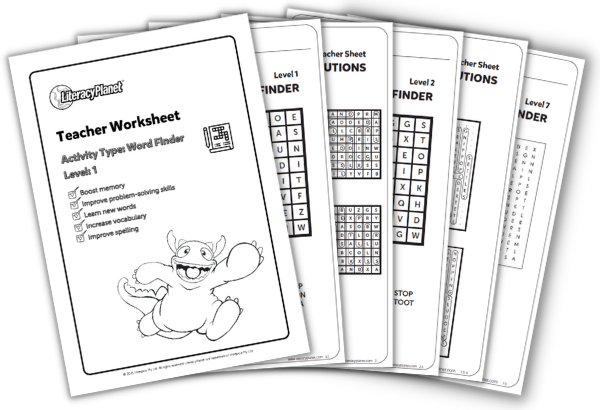 About

LiteracyPlanet

LiteracyPlanet has been developed to empower teachers with a comprehensive resource they can trust to help deliver their curriculum outcomes. It does this by providing tools that easily track results whilst delivering teacher-led instruction that meets their classroom needs, or by monitoring individual student engagement with program-led content that is appropriate to the learning levels the teacher controls.

This means that you, as the teacher, have the flexibility to teach every student in your classroom, providing them with differentiated instruction, targeted intervention, extension of gifted and talented learners, and even preparation for upcoming assessments. All of this is possible while your students are kept engaged and motivated in a safe, equitable learning environment – an environment filled with challenging activities, fun gamification, achievement recognition, enjoyable experiences, and positive feedback.