And that's a wrap! Well, almost.
2021 has been a year for the record books in many parts of life, including at LiteracyPlanet. We had almost 7 million missions completed and over 46 million gems earned—just this year! There are some huge numbers here that show how LiteracyPlanet helped students and teachers in 2021. Thanks for being a part of it!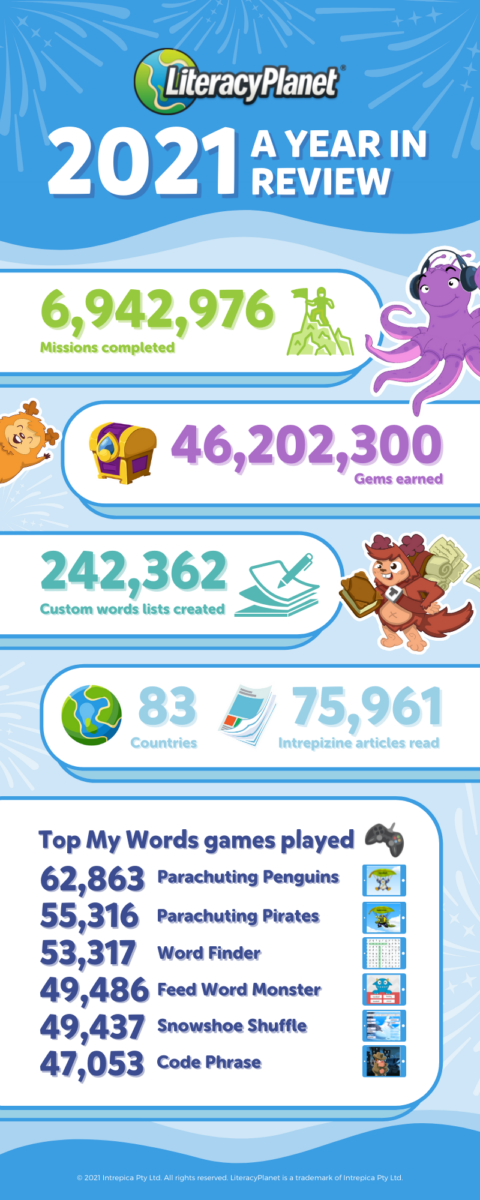 LiteracyPlanet's 2021 numbers
Countries with active users: 83
Missions completed: 6,942,976
Custom Words Lists created*: 242,362
Intrepizine articles read*: 75,961
Gems earned: 46,202,300
Most popular My Words Games played

Parachuting Penguins: 62,863
Parachuting Pirates: 55,316
Word Finder: 53,317
Feed Word Monster: 49,486
Snowshoe Shuffle: 49,437
Code Phrase: 47,053
* Introduced in July 2021
Top 5 Videos for 2021
Our videos continue to be popular with teachers and parents in learning more about the features of LiteracyPlanet. Have you watched our 2021 Top 5?
Most Popular Blogs of 2021
Keep up to date with not just the latest releases in LiteracyPlanet, but also topical articles about teaching and learning English literacy for primary and secondary students. Our most popular blogs of 2021 are:
We are filled with gratitude for the hundreds of thousands of customers who continue to trust us as a partner in their teaching and learning experience. Thank you for being at the centre of the LiteracyPlanet family.