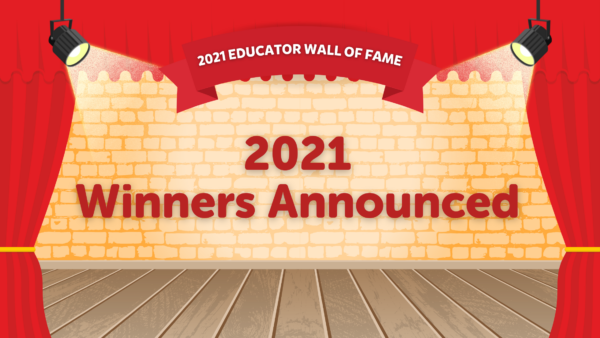 It was an exceptionally difficult process sifting through the hundreds of entries we received from all corners of the globe in our 2021 Educator Wall of Fame.
We already knew there are wonderful, creative, motivating, and dedicated people who work tirelessly to deliver meaningful education experiences—but wow, did we love reading your stories!
It is so heartening to know the support and genuine respect you have for your fellow educators. And it is such a pleasure to acknowledge these outstanding people who in 2021 are LiteracyPlanet's Educator Wall of Famers. Congratulations to all our winners!
PHENOMENAL LEADERS
Those school principals, deputies, assistant principals and other senior leaders who have gone above and beyond. They have led the school through challenging times and taken measures to ensure the continuity of education.
Ankita Diwekar Kabra – Fountainhead School, India
Fountainhead School's Principal Ankita Diwekar Kabra is considered a great leader by her colleagues and is recognised for prioritising the social-emotional wellbeing of both students and colleagues. Ankita heads up mentoring meetings, is a cheerleader for innovative ideas at the school and is an open-minded leader who seeks and provides feedback with utmost humility. Ankita has created a workplace in which her employees thrive through her motivational leadership style. This year, Ankita has explicitly focused on the effects of working from home and combating the inevitable ensuing languishing. This focus has enabled all staff to come together to embrace both challenges and successes. The school is flourishing as a result of Ankita's leadership.
Joseph Gerassi – Redhill School, South Africa
Joseph Gerassi, Redhill School's Executive Head, has not only led Redhill School to become one of the top independent schools in South Africa, but his education innovations continue to have ripple effects across the country. Joseph is a frequent guest on various webinars, news broadcasts or radio shows in which he offers solutions and different ways of thinking that allow students to become the best possible versions of themselves. His core focus on the social and emotional wellbeing of students has created an environment in which students are happy, secure, and learn more effectively. This year, Mr Gerassi consulted with the Department of Basic Education on practical and radical solutions to recovery education post-pandemic and took it upon himself to create video masterclasses to ensure students would not miss out on vital resources and exams. Joseph is a true inspiration to his team and students.
Meggan James – Nunawading Christian College, Australia
Meggan James has worked tirelessly to ensure the wellbeing of all staff, students and families during the difficulties of 2021. Nunawading Christain College's Principal maintained strong communication, keeping all school staff up to date with the ever-changing information and regulations. In addition, she spent many long hours following up with staff to ensure their safety and health. Meggan continues to provide vital support to so many, having organised wellbeing packages for staff and students, and writing special messages of encouragement to all. The school, staff and students are always Meggan's first priority and are so appreciative of all she does for them to ensure the delivery of the best education possible.
Tameka Scott – Sweetwater Elementary School, USA
Assistant Principal Tameka Scott demonstrates the characteristics and skill set of a transformational servant leader. Tameka's impact is far-reaching. She enjoys working with teachers to understand data and using it to guide classroom instruction. She models her own expectations of teachers and demonstrates a servant's heart to the students, the teachers, the parents, and the community. Tameka is known for empowering those around her to ensure the best outcome in a situation. Her dedication to the provision of quality education and caring for her students has taken a further step this year, following an impacted year due to the pandemic. Having developed new initiatives and action plans to address academic, social-emotional, and behavioural needs—think mindset lessons, yoga, WIN (What I Need) time and intensive planning sessions with individual teachers to most benefit students. These strategies have already helped improve students' academic performance and behaviour. Congratulations Mrs. Scott!
CHAMPION TEACHERS
The outstanding teachers of 2021 who have adapted and motivated students through disruption and sought the best ways to deliver fun, engaging and inspirational lessons either in the classroom or online. These teachers are there for their students no matter what.
Dominica Boydell – Our Lady Queen of Peace Catholic Primary School, Australia
Dominica Boydell goes above and beyond on many levels as an educator. In this crazy year, she has inspired her Year 4 students, being organised and on top of her game. Dominica's class preparation during this time was the envy of her colleagues, while she also skilfully managed the added responsibility of WHS for the staff and students. During 2021 a different style of teaching was developed at the school and Dominica took this in her stride, delivering exceptionally creative teaching methods. In particular, with a special needs student in her class, she has reconfigured worksheets so that they could be read and delivered seamlessly. Dominica has shown true adaptability and care for her role this year and is a champion teacher in the eyes of many.
Judy Cross – Ngāti Toa School, New Zealand
After 40 years in education, Judy Cross is treasured by her colleagues as "the most organised, motivated, energetic and amazing teacher who goes well above and beyond". Despite the disruption of lockdown, Judy ensured her class had work available online immediately and spent a great deal of time checking in with each individual student. As the key organiser in the school's Fun Run fundraiser, Judy directly contributed to the support of some of the school's families in need, as well as the 2022 school camp, raising a significant amount of money. Judy also enjoys the role of encouraging cultural expression and celebration within the school and helped organise the school's first Matariki celebration in 2021 to great success. As one of Judy's colleagues put it: "without her organisation and knowledge, a lot of extra-curricular things wouldn't happen. She is the real MVP!".
Felix Hug – RBK International Academy, India
How would you teach music online? Felix Hug found new and interesting ways to guide students through the Music Club, even organising a brilliant whole-school musical concert of The Sound of Music with almost 300 students participating, including a new rap song to honour covid warriors, with standout music direction, backdrop editing, and visual effects. Felix also trained students for an All India Children's Choir Festival "Younger than Springtime", with another 200 students participating. Another wonderful example of a teacher championing education for their students.
Simran Kohli – Birla High School-Mukundapur, India
Dedicated and committed to students, Simran Kohli is known for coming up with new ideas to make class time more interesting and fun-filled. Committed to enhancing the creativity and critical thinking of students, Simran's recent ideas in 2021 have included cloud gazing, food art, and even making toys out of trash (think tumbling matchboxes, plastic bottle spinners, balloon bugles, newspaper swings). When Simran's students tried new experiments with their homemade science kits, their discoveries whet their curiosity and enhanced their creativity.
CREATIVE EDUCATORS
Dedicated to the behind-the-scenes genius who helps orchestrate the show. This award is for the most creative educator, whether that be a curriculum leader or a teacher's aid.
Kylie Edwards – Redbank Plains State High School, Australia
Kylie Edwards epitomises a Creative Educator as she is consistently putting in great effort to devise new and exciting ways to encourage students to learn. In 2021, Kylie created many fun science experiments and lessons that successfully engaged and enticed her students to not only learn, but continue to learn beyond the lesson. In both Maths and Science disciplines, Kylie applies her creative teaching methods, for instance, she purchased shape building packs, so that her class had hands-on tools to develop their understanding of how shapes appear and are created.
Declan Fleming – St. Gilgen International School, Austria
Declan Fleming is an incredible educator of Chemistry who consistently creates meaningful educational experiences for young people to see the purpose in their learning and expand that purpose into innovative approaches to our global issues. He is committed to student growth and cares for their emotional needs like a champion. All the while, he continually creates top-notch videos which support their learning, while also contributing to global colleagues teaching the subject of Chemistry. In 2021, with disruption to normal teaching through distance learning, Declan created new ways for students to use their kitchens as laboratories while also creating a celebration of sciences for students interested in learning more, a creative feat, given how practical Chemistry in fact is.
Kate Reeler – Harare International School, Zimbabwe
Kate Reeler leads by example through her creative activities in her own classes, while supporting others to develop more interactive lessons. She tirelessly works behind the scene to help make systems at school easy to use. Of Kate, one colleague commented, "I drop by her room often when she is teaching Diploma Programme classes and I walk away with a new idea for an activity every time." Kate really considers ways she can get her students to interact with what they learn and ensure they understand for the purpose of both academic success and developing true lifelong learning skills. Like when she cut sample essays in paragraphs and asked the class to glue them in their order that they would then mark themselves against the rubric.
Aicha Saci – Dar Alhanan, Saudi Arabia
Aicha Saci was chosen as one of our Creative Educators for all the work she has done this year to teach Grade 1 English via online learning methods. Beyond her persistence in delivering course content, Aicha showed great creativity in maintaining students' attention and motivation. Aicha created puppets to talk and open discussions with her students and also had students create an art project about a zoo animal, later collecting them and creating the class's own virtual zoo field trip using this art. Students loved it and remained engaged throughout the year because of Aicha's teaching approach.
EDUCATION MOTIVATORS
The school-based people who are making real change. Whether they are implementing new tools, hosting events or simply being a role model for change and new ideas, this is for the inspiring leader.
Hannah Hall – The Arbor School, UAE
Hannah Hall, Head of Marketing at The Arbor School in the UAE, is a leader in social media for schools. Taking a small school's social media platforms, Hannah has transformed them into pages that authentically show the everyday journeys of the students through humour and a consistent and 'real' tone. Hannah is a one-person department, and so manages a huge role. Never far away from any action or event at the school, Hannah's work has not only engaged students and staff but also parents. Hannah is an ultimate example of how someone behind the scenes at a school can make a significant impact on the community. Her dedication (even on her days off), interest in all aspects of school life (classrooms to outdoor play spaces and facilities) and creativity (they have a new parent fitness class thanks to Hannah!) are all reasons for her win in this category.
Jennifer Moore – Pinson Valley High School, USA
Jennifer Moore is a dedicated teacher who is always bringing new ideas to her school. She takes on projects, finds grant funding for them, and implements them to give students unique educational experiences. In 2021, not missing a single school day, Jennifer ensured that students, whether learning from home or in person in the classroom, mastered the English standards and exceeded their learning outcomes. Creatively, Jennifer also worked with her students to publish and print a book. She serves as the lead mentor for her school and worked with first-year teachers in a very difficult year to help them navigate all challenges. For new teachers entering education, it is people like Jennifer who motivate and engage on the level required to deliver outstanding education experiences.
Kevin Okonji – Bloombreed Schools, Nigeria
Kevin Okonji is a motivational educator to his peers. Upon noticing a colleague struggling to teach a concept in class, Kevin politely asked the teacher if he would be able to assist. He then sang a song to reduce the tension in the room, while all the students sang along with him. He then successfully taught the concept in a way that not only did the students understand, but also suceeded at demonstrating to his colleague how the concept may be taught. Kevin did this without prejudice or judgment, which was the reason it was so well received by all parties. And the students aced their exams in the concept! Our favourite part of this nomination was this quote from Kevin's colleague: "This person makes me want to stay in education despite bad days." In a world where demands on teachers are at an all-time high, it's so wonderful to read about the Kevins of education!
Richard Russell – Bandung Independent School, Indonesia
Richard Russell, a Teacher and IT Coordinator at Bandung Independent School, is known for constantly implementing new creative tools to use in his classroom while sharing these tools with other teachers. Richard spends a lot of time working with students in their House system to create exciting events and creates motivational lessons to help bring the community together, which is more important than ever given the isolation felt by students and parents for much of 2020-2021. He also works with parents to ensure they understand digital citizenship and safety online and creates opportunities for the school community to come together, including organising a recent Halloween Contest for students from Early Childhood all the way to Grade 12. The contest's success was due to Richard's guidance of students' leadership skills, dedicating personal time to decorate the school and his ability to bring different school groups together for one purpose.
UNSUNG EDUCATIONAL HEROES
The quiet achiever who always works with passion and care. Never one for attention, this person is the one who genuinely deserves recognition for their tireless and appreciated efforts.
Rachel Conlon – St Joseph's Catholic High School, Australia
Rachel works tirelessly for and with her students and fellow teachers. As a passionate Science and Chemistry teacher, Rachel didn't want her students to miss out on important concepts during remote learning. To give them the best possible chance of mastering skills, knowledge, and understanding, she spent hours and hours during remote learning filming step-by-step experiments, working through past paper questions to demonstrate the processes required to solve problems, and checking through student work to provide detailed feedback to move their learning forward. She kept her senior Chemistry classes engaged with live online classes and step-by-step practicals and created dynamic lessons for her junior classes. Rachel is also a generous and thoughtful colleague, sharing her resources with all teachers in the faculty so all students benefit, and regularly made time to check in with colleagues during remote learning. Late in 2021, Rachel planned for the implementation of the school's intensive literacy program in Science, as well as for the return to face-to-face learning.
Sarah Copley – Bickley Park School, UK
Sarah is Bickley Park School's dedicated Head Librarian, always thinking of ways in which she can enhance the reading experience for the pupils, support the teachers and provide reading strategies for all the readers. Over lockdown, Sarah created a superb Reading Hub app, which enabled every student to access a wide selection of different reading resources. Pupils were given personalised reading suggestions and, when they needed reading books, Sarah posted them out to them at home. Since the students' return to school, she has redesigned the library, making it a safe and stimulating environment. She has also created satellite support libraries outside classrooms for easy access. On top of all of this, she has monitored every reader in the school, providing English teachers and Form teachers with supporting data to work with each pupil, helping them to progress.
Naida Mulligan – Verdon College, New Zealand
If it were possible to give 110%, Naida Mulligan is the person for it. Noted for giving special care and attention to students, Naida is also incredibly dedicated to teaching. Her support for the teachers and other staff at her school is greatly appreciated, always stepping up to do the tasks that others walk by. Naida helps out with school-wide and classroom initiatives, and she always has an encouraging word to give to her workmates. Naida is the one who takes uneaten food from staff events and distributes it to hungry students, she took on the communicator role for the school branch of the teachers union when no one else would, and she has implemented a system that manages the school technology equipment, teaching students responsibility for their actions. These actions create a better learning environment for students and empower her colleagues to provide an even better teaching experience.
Dave Vaughan – Hsinchu County American School, Taiwan
Dave is the first person to assist in any task the school needs. He is the one to take notes at a meeting to distribute out, he discovers new apps and websites that he readily shares with his colleagues, and took charge of the school's WASC-candidacy, all while completing his own studies on the side. Dave is also the school's Advisor for the Model United Nations club and leads the Wood Carving lab that meets twice a week. These students are benefitting from being taught by one of the most caring and dedicated educators there is!