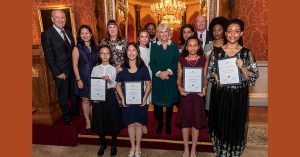 One of LiteracyPlanet's own had an audience with The Duchess of Cornwall and other special guests at Buckingham Palace.
Rob Mudie, LiteracyPlanet's UK Education Content Specialist, attended the recent ceremony awarding and celebrating the winners of The Queen's Commonwealth Essay Competition for 2019.
The event took place in the Grand Hall and included readings from each winning entry: the authors William Boyd and Ben Okri read first, followed by Jerri Halliwell.  Then the Duchess of Cornwall spoke very movingly about the winners and the theme of Connectedness. Each winner was interviewed and spoke briefly and official photographs were taken to commemorate this momentous occasion.
The Winners were:
Senior Winner: Catherine Wang, Canada
Senior Runner-up: Nnemdi Ozoemena, Nigeria
Junior Winner: Veronica Shen, Singapore
Junior Runner-up: Elise Jensen, Ghana, and
Junior Runner-up: Kieran Shafritz de Zoysa Kieran Shafritz de Zoysa. Kieran, 11, was tragically killed in a terrorist attack at the Cinnamon Grand Hotel in Colombo, Sri Lanka on Easter Sunday. (Our profound condolences go out to Kieran's family.)
In summary, Rob had this to say about the experience, "I was honoured to attend the presentation, meet these bright young students, and am proud to represent LiteracyPlanet and work with the RCS in co-promoting their annual competitions for young people worldwide."
'The Queen's Commonwealth Essay Competition 2020 is now open for entries!
Launched by HRH The Duchess of Cornwall in Christchurch, New Zealand on the theme 'Climate Action and the Commonwealth', this year's topics draw on the increasing youth movement across the Commonwealth and the ongoing climate crisis. Young people are called upon to consider their position and power in bringing about change, and how the Commonwealth can be used as a tool for positive action. This year, we want to hear from all young people, regardless of age, education or region. All stories are important and all voices matter. Entries must be received through our online platform before 5 pm GMT on 30th June 2020, full details can be found on the Royal Commonwealth Society website.'