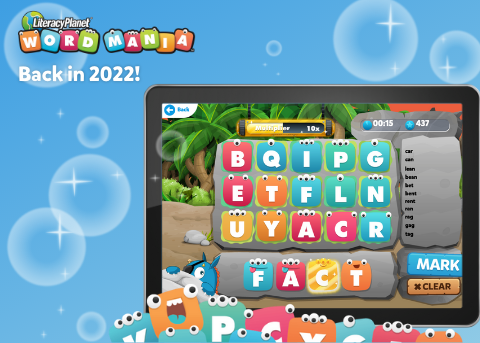 It's time to sharpen those word-building skills! The planet's biggest, funnest* online literacy competition for schools, WORD MANIA, has begun.
Compete against other schools to share in $150,000 worth of prizes.
The competition is free to enter for any student from Year 1 to Year 9.
The sooner your students start practising, the better prepared they are for the competition round! Good luck to all participating students.
*this word may not be recognised in Word Mania!
Current LiteracyPlanet Customers
Word Mania is already part of your subscription and your school is already registered to compete! You don't need to do anything other than login, click the Word Mania logo and get practising.
More info and terms and conditions here.
Not yet using LiteracyPlanet?
That's ok! All schools, worldwide, are welcome to join. If you are new to LiteracyPlanet, simply register your school and get going. It's free to join and you get the added benefit of free, full and unlimited access to all of LiteracyPlanet's amazing content, games and rewards until 1st April 2022.
What are you waiting for? Register here.
Key Dates
31st January – 20th March: Registration and Practise Round
21st – 25th March: Competition Round
30th March – 1st April: Final Round
What is Word Mania?
Based on one of LiteracyPlanet's most popular exercises, in Word Mania, students race against the clock to build as many words as they can in three minutes, from 15 randomly generated tiles. Word Mania improves spelling, word recognition, and word knowledge and we see on average, game scores increase by 36% over the course of the competition.
How many words can your students build?
Here's a quick how-to video. Get started today!