I'm a novice when it comes to literacy curriculum and what best engages students in and out of the classroom. But my colleagues are seasoned pros. In my six months at LiteracyPlanet, one thing that stands out is the need to make content engaging. Especially if you want students to not just learn, but to be inspired to learn for a lifetime.
Excitingly, one of the newest and most popular features of LiteracyPlanet has been rolled out in my time here: Intrepizine.
Don't know it? You're seriously missing out. Learn a little more here.
Know it? You've likely used it to great effect already.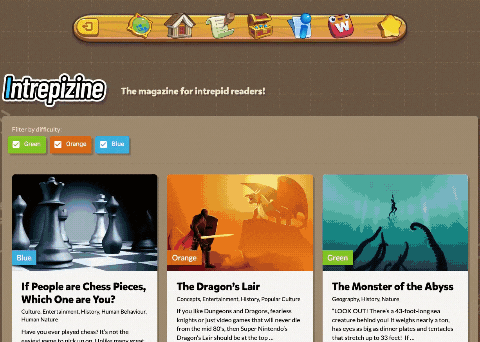 Annelise Mitchell is one of LiteracyPlanet's resident Education Solutions Specialists. Her multi-decade experience in important teaching roles and deep understanding of curriculum and scaffolding, make her the most perfect inclusion in the content team.
Recently when chatting with Annelise, she shared some useful tips on how Intrepizine can be used in the classroom. Follow her ideas to easily incorporate this incredible resource in your lessons.
Let's all get on the same page
Locate the article you wish to teach and project it to a smartboard or wall. Read through the article aloud—it will take on average five to 10 minutes. This may provide opportunity for side discussions about specific areas of the text. It is an excellent opportunity to gauge the level of comprehension upfront.
Use as a muse
Use the article as the source of a topic you instruct your students to write about. Depending on their level, it may be an instruction to dive deeper into the topic, provide a counter argument, or find one aspect of the article to focus on.
And, discuss!
Being such engaging content, students generally have no problem discussing these articles, asking questions, and comparing experiences. Annelise's team have taken the hard work out by providing questions in each article that are structured in a variety of ways. This is an opportunity for you to model answers for your students, and to encourage robust conversation.
If I can see it…
Whether in smaller discussion groups or as a whole class, you may choose to support more visual learning by developing charts, imagery, or artwork that further explores the article and main themes. What a wonderful chance for visual learners to express themselves more comfortably and to reinforce their own understanding of the lesson.
Crossover activities in LP
There are hundreds of ways students can engage with content in LiteracyPlanet. Along with Intrepizine, another popular feature is the Custom Spelling Tool. Variations of this allow both teachers and students to create their own spelling lists and then apply these words in a raft of missions in the program. There is a vocabulary list provided at the end of each Intrepizine article. Copy and paste into the Custom Spelling Tool to drive a deeper understanding of the terminology associated with the topic.
Become an event planner
Some of the articles, like our Penguin Awareness Day text, offer suggestions for children to get involved in their learning in a deeper way. Organising fundraisers for certain causes, or dress up fun as a class culture exercise can further infuse the theme and lessons.
Take it home
Dream of setting homework tasks that don't get the old eye roll? The gamified nature of LiteracyPlanet is a hit for homework tasks and Intrepizine is no different. The articles are set up in a way that you can easily set reading, writing and spelling tasks with the flick of a button, to be completed in the student's own time.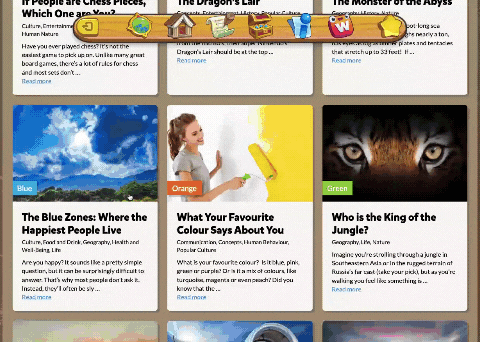 All Intrepizine articles are written in a format that models a feature article. This exposes students to different writing styles, as they often study narrative writing.
"Our content team take inspiration for articles everywhere. Years of teaching have given us a clear understanding of what students like and don't like. We also ask the staff at LiteracyPlanet for topic ideas—the more interesting the better. It gives students the variety they crave and speaks to them at a level at which they deserve to be communicated." Annelise Mitchell, LiteracyPlanet
What makes Intrepizine so popular with teachers and students? The articles themselves are high-interest short texts, which maintains high levels of engagement whilst reading, as well as providing plenty of opportunity for further research and learning. And raising this student engagement and thirst for knowledge is what teachers love to see!
We'd love your feedback on the articles your students are enjoying in Intrepizine. And if you haven't already used this handy resource as part of your literacy lessons, it's time you started!