We know how short of time teachers are, which is why we want to make our reporting in LiteracyPlanet as user-friendly and efficient as possible. That's why we have introduced the Group Strand Report, which allows teachers to see a succinct summary of how a group of students is progressing through the strand in a particular year level.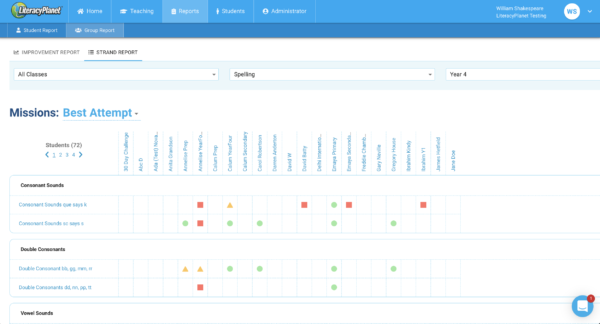 The Group Strand Report is an aggregated version of the student strand report, allowing teachers to view the best and latest scores of on missions by a group of students. With this at-a-glance information, teachers will be able to make informed decisions about which students need immediate attention, and in which particular areas. This will reduce browsing through multiple students and multiple reports, leaving time to intervene where teacher attention is really needed.
To locate the Group Strand Report follow the following directions:
Reports > Group Report > Strand Report

Frequently Asked Questions:
This report shows me comparative scores of students, is there an easy way to see what missions are assigned in each strand to all my students?
The feature to view assignment statuses on the Group strand report is coming soon! Keep an eye out for the in-app notifications and emails.
Can I assign a mission from the report?
Just click on the mission title in the first column of the report to get to the assignment page for the mission.