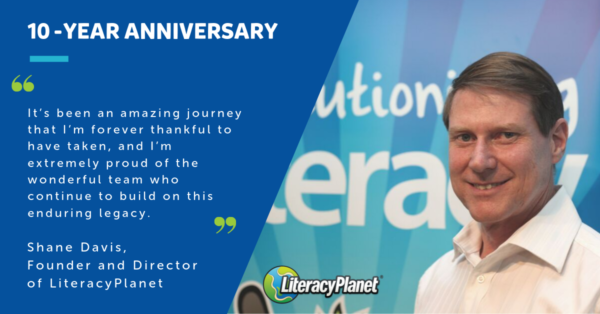 On the 15th of September 2009, LiteracyPlanet finished its final round of testing in Australian schools and was released for use across the country. Teachers were thrilled with how the program not only built on student's literacy skills but how it engaged and motivated students to learn more.
Shane Davis, Founder and Director of LiteracyPlanet, said, "When launching LiteracyPlanet in 2009, I knew we had created something very special because of the excitement we were experiencing from parents and teachers, but most importantly from their children and students. Over the following 10 years, this has been reinforced countless times when hearing of the learning successes that have been achieved. It has been an amazing journey that I'm forever thankful to have taken, and I'm extremely proud of the wonderful team that continues to build on this enduring legacy."
Since 2009, LiteracyPlanet has gone from strength to strength – with our development team continually enhancing features that prove time-saving for teachers whilst increasing the interactivity and fun for students. We have expanded into the UK, US and we are now teaching English Literacy to students in over 100 countries around the world!
Adam McArthur, CEO of LiteracyPlanet, said, "We are so proud of what the business has achieved, being able to foster growth from students all around the globe. We are constantly evolving with the evolution of education and are certainly on track with our new and exciting enhancements like adaptive learning."
We are very proud of our achievements over the past 10 years, but recognise that we couldn't have come this far without the support of the schools, teachers, and students that have used LiteracyPlanet. We thank you for being part of our journey and we thank our dedicated staff for helping to build the community we all now share.
Improving the literacy skills of young people all over the world will remain our principle aim. This mutual goal, shared between our team and the schools we work with, remains paramount in our company development.
As we look toward the future, LiteracyPlanet's enthusiasm and commitment towards achieving our goal will remain unwavering. Our diligent team will continue to target the needs of students whilst helping take the load off our overworked teachers.
We thank you once again for your support and we are very excited to show you all what's coming next!
Our History
2007
Intrepica is founded in Queensland, Australia by Shane Davis, to create literacy teaching software.
2008
Research and development.
Intrepica develops custom software for reading researchers at Sydney's Macquarie University.
2009
Testing in schools. Teachers are thrilled by the way the program engages and motivates students.
LiteracyPlanet is released for Australian schools.
2013
Popularity and word of mouth drives rapid growth.
2014
LiteracyPlanet launches a version of the program for home use to improve literacy outcomes for Homeschools and Tutors.
2015
Finalist for best 'International Digital Education Resource' at the UK's prestigious Bett Awards.
Content is aligned to England's National Curriculum and Scotland's Curriculum for Excellence.
Use of phonics and sight words content is proven in a clinical study to have a significant effect in improving reading outcomes.
First Word Mania competition – more than 100,000 students build 43 million words.
2016
Word Mania is the most popular literacy competition in Australia, with more than 200,000 students from 2,000 schools building 63 million words.
LiteracyPlanet is used in 40 countries.
2018
LiteracyPlanet launches in the USA, with thousands of exercises for Elementary, Middle and High Schools as well as Homeschools and Tutors.
More than 300,000 students in over 50 countries are now using LiteracyPlanet to learn important English literacy skills in class and at home.
2019
LiteracyPlanet launches LP Next with an adaptive learning engine set to revolutionise the way the world teaches literacy
More than 2 million students in over 100 countries now use LiteracyPlanet