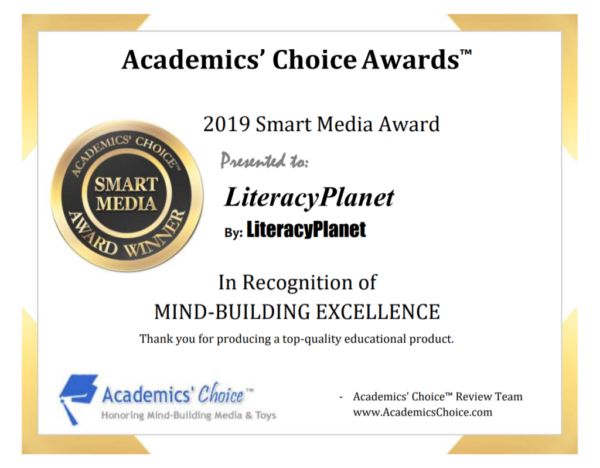 LiteracyPlanet is pleased to announce that we have been honored with a Smart Media Academics' Choice Award!
The award is a prestigious seal of educational quality, reserved only for the best mind-building media and toys. The independent Academics' Choice Awards program and its seal of excellence are recognized worldwide by consumers and educational institutions as a mark of genuinely effective learning tools that stimulate the mind, and provide potential for the student to fully develop higher order thinking skills.
LiteracyPlanet is a winner of the Academics' Choice Smart Media Award in the mobile app category. The Academics' Choice Advisory Board consists of leading thinkers and graduates from Princeton, Harvard, George Washington University, and other reputable educational institutions. Product-appropriate volunteer reviewers, combined with the brainpower of the Board, determine the coveted winners. Entries are judged by category (i.e. mobile app, toy, book, website, magazine, etc.), subject area, and grade level, and evaluated based on standardized criteria rooted in constructivist learning theory.
"It was our privilege to award LiteracyPlanet with a 2019 Academics' Choice Smart Media Award. If you are looking for a comprehensive English language skills program LiteracyPlanet is an excellent choice. Only genuine mind-builders are recognized with the coveted Academics' Choice Award. Our point-based evaluation of LiteracyPlanet revealed that it's well-deserving of recognition as the gamified learning platform received a high score in almost all aspects of our analysis." – Stephanie Howard, Marketing Coordinator, Academics' Choice Awards.
About LiteracyPlanet:
LiteracyPlanet is a comprehensive online English literacy platform which encourages learning by having interactive, fun, gamified lessons. It is used by more than 2 million students in over 100 countries. The lessons cover phonics, sight words, spelling, reading, comprehension, grammar and writing strands and is aligned to 65 curriculums globally. LiteracyPlanet has recently celebrated 10 years since the first launch, proving their unwavering commitment to improving the literacy skills of young people all over the world. The company currently has offices in Sydney, London and Chicago.
About Academics' Choice™:
Academics' Choice™ helps consumers find exceptional brain-boosting material. Academics' Choice is the only international awards program designed to bring increased recognition to publishers, manufacturers, independent authors and developers that aim to stimulate cognitive development. A volunteer panel of product-appropriate judges, including parents, educators, scientists, artists, doctors, nurses, librarians, students and children, evaluate submissions based on educational benefits such as higher-order thinking skills, character building, creative play, durability and originality. Only the genuine "mind-builders" are recognized with the coveted Academics' Choice Award™.
LiteracyPlanet are very proud to have won the prestigious 'Smart Media Award' and would like to thank Academics' Choice for recognising the hard work and enthusiasm that drives our success. Visit http://www.academicschoice.com/websites/literacyplanet.php to see our winners page!