LiteracyPlanet's new platform will be launching for parent and homeschooling subscribers on 1 December 2020. Here at LiteracyPlanet, we are all about making education fun, so that's what we have endeavoured to do with our new program.
For the past few years, we've been listening to feedback from the end-users and we've made a ton of improvements to help you and your little ones with learning literacy at home. You might've already noticed some updates within the current platform when you've logged in, and there is more to come!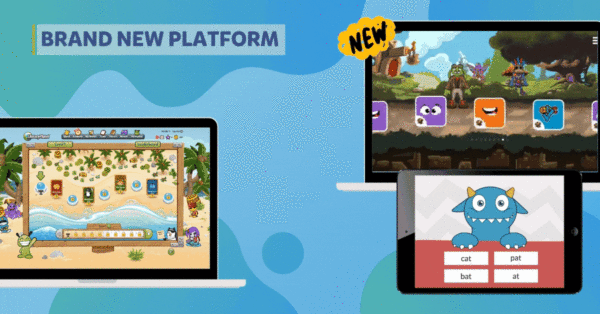 What's new?
I'm glad you asked! Here are some key highlights and features to the new platform which are new:
Spaced repetition: Our model 'Learn, Practise and Test' is implemented to get children practising and learning. Assign students with missions; if they do not reach 85% proficiency, the mission is reallocated until proficiency has been achieved.
New real-time advanced reporting tools: New and improved reporting tools for parents and homeschooling users such as the Activity Report, Strand Report and 'Improvement Report' will be available. These reports will highlight your children's achievements, improvements and progression through each educational concept.
New rewards system: There is a new rewards system which has students earning gems to accessorise their new Avatar in exciting costumes. This fun element helps keep students engaged. A growing body of scientific research shows appropriate gamification has a variety of academic, psychological and behavioural benefits. LiteracyPlanet's engaging program helps to achieve this.
Flash-free and uses HTML5 technology: The new program is built in HTML5 for better audio and video capabilities. It is also tablet-friendly and compatible with any device with a web browser.
Here are some FAQs which you might find helpful!
Is there a new App? If so, where can I find the download links?
Absolutely! It's a whole new App and the links to download them are here:
 
I can't seem to download or load the App properly on my children's tablets/desktops. What are the minimum requirements for accessing the platform?
Yes, you will need stable internet access and a tablet/browser with the operating systems below: Desktop:
Operating Systems: Window 10 or macOS 10.13
Latest Chrome or Microsoft Edge or Safari 13.1 Tablets:
For Tablet Apps: iOS 13 (iPad) or Android 8.1