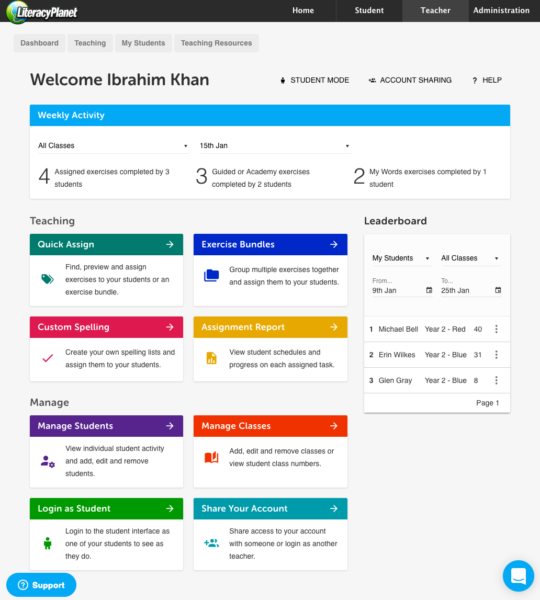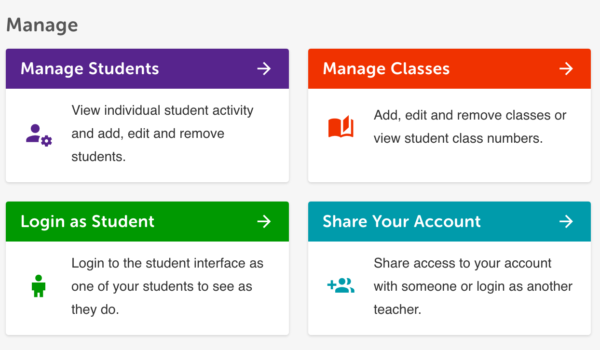 In the latest update to the management features available to teachers, LiteracyPlanet has redesigned the look and functionality of the teacher dashboard. The upgrade makes exciting improvements to the teacher user experience and gives teachers immediate access to the most frequently used administrative features.
The new look and functionality of the dashboard, launched in time for the start of the school year, now provides teachers with a quick and immediate overview of:
Weekly Activity Report – this provides an overview of student activity, with tasks divided by assigned exercises and unassigned exercises.
Student Leaderboard – a quick and easy view of students' results within a group or class. Results can be viewed by date range, and certificates can be immediately downloaded and printed for rewards.
Login as a Student – to easily log in as a student directly from the teacher dashboard. This is especially useful for teachers with students in younger year levels who might have trouble logging in themselves, and allows teachers to quickly jump into a student's account and look at their progress or word lists.
Account Sharing – an easy option to share and manage access to student accounts with other teachers, such as teaching partners, learning support teachers and relief teachers.
According to LiteracyPlanet's product manager Ibrahim Khan, the new features are the direct result of the company listening closely to its teacher customers: "We are constantly evolving the program, both in content for students and functionality for teachers. These new features make a significant improvement to teachers' user experience, and offer them even more ways to be efficient and save time the using the program".
---
For LiteracyPlanet customers
Existing LiteracyPlanet customers have automatic access to these new features when they log in to the teacher dashboard.
Having trouble logging in to your new Teacher Dashboard? 
If you are experiencing issues with accessing our new Teacher Dashboard, clear browser cache and enable cookies on your computer. If you are still experiencing problems, contact our helpful support staff.