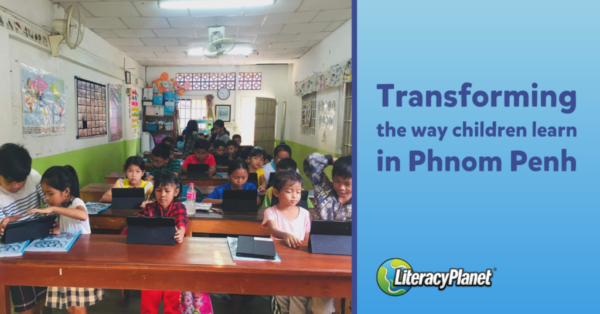 LiteracyPlanet and Matesabroad have been working side by side for under a year, but have made leaps in this short time. Matesabroad is a grassroots Australian organisation that supports schools providing free education in the squatter communities of Phnom Penh. Previously up to half of the students in these communities did not complete primary school, with the girls dropping out before the boys.
This lack of education has had devastating consequences for generations of families. However, things are changing. Matesabroad works to empower people by educating children and supporting their families. Their aim is for this generation to become the instruments of positive social change. Their mission is to create leaders armed with the skills, knowledge, and ability to transform their communities.
LiteracyPlanet has jumped at the chance to help Matesabroad by providing licenses to over 900 students. Matesabroad has been able to complement classroom teaching with an amazing online interactive English program. This has improved engagement, increased attendance, and of course been great fun for the students of Phnom Penh!
"LiteracyPlanet now gives us a comprehensive scaffold for learning English. The teachers are grateful for the support, especially given the truly difficult environment that they work in. The parents are increasingly encouraging student attendance rather than taking their children to work with them in the markets. The sight of the classrooms in the middle of the squatter community, full of students using world-class technology to enhance their learning, has had a powerful and positive impact on the whole community."

Lou McNamara,
Program Manager at The Matesabroad Foundation
LiteracyPlanet aims to continue working with Matesabroad and connecting with their communities. LiteracyPlanet loves seeing the rewards it has for the Phnom Penh students.
To read more about Matesabroad, visit their website.