Here at LiteracyPlanet, our team is always looking to make the program even better. We also love hearing from our customers about things you'd like to see in there too.
Every couple of months, we gather all our new features and enhancements together and share them with you. So, here are our exciting updates from the last month or so. Plus, if you read all the way to the end, you'll get a sneak peek of the fun new features you'll see very soon.
Available Now
My Words
Students can now create their own word lists and practise their spelling with 16 highly effective activities from which to choose. The ability to create their own word lists encourages the active involvement of students in their literacy development. Some secret sauce right there! Read more on My Words >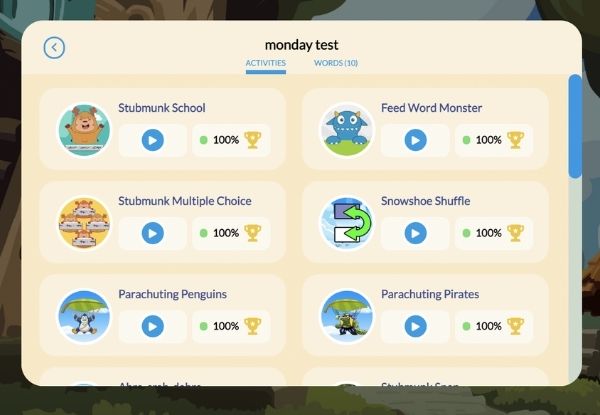 Group Strand and Mission Progress Reports
In addition to viewing their student results across literacy strands, teachers can now view the status of missions they have assigned simply by selecting the 'Show Assignment' checkbox in the Group Strand Report. Plus, the Mission Progress Report now shows you how many missions are available to each student, how many activities have been completed per mission, and total number of completed missions. Thank you for asking for this improvement. See new reporting features >
Assignment Management
Your assigned work for students – view, manage and report, all in one place. Teachers and homeschooling parents can now quickly and easily identify current and past assignments, as well as the completion status of each assignment within a single page.
K-2 Comprehension and Grammar
Another 25 levelled readers, with questions, have been added to the comprehension strand, while all new content provides young children with a fun and meaningful way to develop their grammar skills, learning how to identify grammar conventions at the word and sentence level.
New Avatar Items
Another 33 new Avatar accessories have been added to the Shop. We just know these are going to create even more excitement for students eager to spend their hard earned gems!
Activity Trophies
They're back! Gold, silver, bronze recognition for achievement after every mission.
Intrepizine – the magazine for intrepid readers!
Boom! An all new feature! Intrepizine is available for teachers, parents and students. It provides a variety of high-interest articles right from your dashboard. Students can choose from fresh, topical articles of interest written specifically for their age groups. New articles will be added on a weekly basis, ensuring the articles are both current and novel. Learn more about Intrepizine >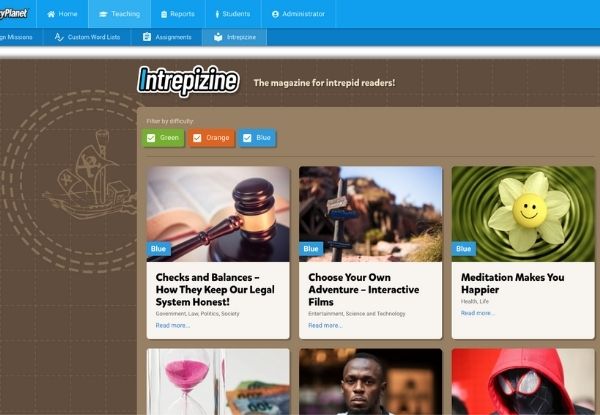 Coming Soon: July ➟ September 2021
Spelling Strand Upgrade
Hundreds of new word lists and many more activity types.
Year 4+ Comprehension
All new content by popular demand.
Learning Level Visibility
You will be able to view and set each student's learning level with ease.
Search Capability
Easily search for concepts and activities, and then assign them to your students.
Arcade Games
Get your students set for another release to keep them engaged and learning.