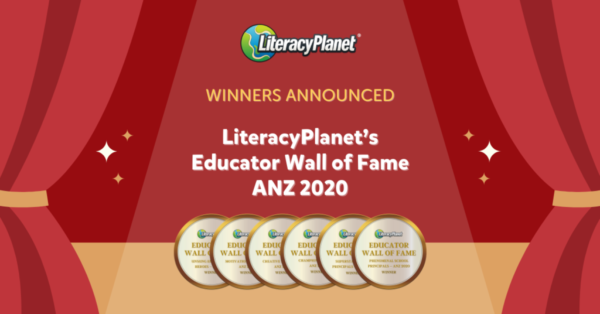 After an extraordinary and passionate round of nominations, we are proud to announce the winners of the six 'LiteracyPlanet Educator Wall of Fame – ANZ 2020' categories. The quality of the entries and the stories behind them were truly humbling, and we would like to thank everyone who took the time to recognise the heroes in their school communities.
The 'LiteracyPlanet Educator Wall of Fame' aims to celebrate and commemorate the spectacular achievements of educators in Australia and New Zealand.
This inaugural event could not have come at a better time, following a year of challenges and uncertainty for everyone in our education community.
So, without further ado, here are the winners for the 'LiteracyPlanet Educator Wall of Fame – ANZ 2020'. A round of applause to these wonderful people and a huge thank you for the invaluable contributions you have made to K-12 education in 2020.
Phenomenal School Principals of 2020
Margaret Berry from Robertson State School
Principal, Margaret Berry has been a proactive leader for digital learning and staff training at Robertson State School. Margaret ensured all staff had sufficient support and training to manage home learning with ease. It allowed teachers to feel confident and motivated to take charge of using digital tools which might've been viewed as a difficult task before.
Cathy Steere from St Augustine's Primary School
Cathy has shown resilience and compassion during the year of the global pandemic at St Augustine's Primary School. Her continuous support to staff, parents and students is shown through her consistent personal check-ins and her transparent communications throughout 2020.
Karen Brown from Ashmore State School
Karen's phenomenal leadership skills as the Principal at Ashmore State School this year has been outstanding. Her confidence in decision making has been of great help during a time where things were uncertain. Karen made sure all staff were supported for home learning where teachers continued on with teaching the curriculum to make sure no learning time was lost.
Superstar Deputy Principals of 2020
Suzie Stathis from Marsden State School
Suzie's respect and passion for Australia's Indigenous People was demonstrated through her sensational reconciliation program earlier this year. The reconciliation program included the production of a series of movies, where an Aboriginal elder told historic stories from their perspective. This was followed by an innovative and interactive portion of the program where students would scan QR codes around 9 locations at the school to watch the mini-series of movies on their devices. On top of this, Suzie organised two sections of the walls at Marsden State School to be filled with handprints of students to symbolise reconciliation.
Mandy Duthie from Geelong East Primary School
Mandy has demonstrated strong reliance and leadership skills at Geelong East Primary School during a year of uncertainty and challenges. Mandy led the project of ensuring all students and teachers had sufficient technology to manage remote learning during the time Victorians had to go through the lockdown. Her organisational skills shone through when she produced a timetable that worked for all staff to make sure children of essential workers were taken care of at the school as well as making sure the vulnerable and at-risk staff were also taken into account. Mandy adapted to any changes in schedule and took on any issues that arose with a smile on her face.
Gary Davey from MacGregor State School
Gary's compassion and care for his students at MacGregor State School has shone through more than ever this year when schools needed to rely on digital learning during the lockdown period. Not only does he go above and beyond to make sure students are set up with their devices, but Gary also checks in with students to make sure they are emotionally supported. With Gary's help and determination, MacGregor State School was highlighted in LiteracyPlanet's monthly update in June for the highest number of LiteracyPlanet exercises completed worldwide.
Champion Teachers of 2020
Hayley Schutz from Court Grammar School
Hayley has made endless contributions to all staff and students at Court Grammar School. Her passion for literacy shone through during the handful of projects she managed including the production of the school's catalogue with reading resources and producing a levelling system for teachers to assist them with their students. Hayley's resourcefulness was also used to help other teachers with Professional Development opportunities and took time outside her work to help other teachers with their curriculum-related queries all year. In addition, Hayley worked with the Secondary English Coordinator to promote the school-wide event, Book Week which incorporated Secondary students providing peer teaching to younger students.
Christine Lawrence from St Michael's Catholic Primary School (Daceyville)
Christine's professionalism and patience were demonstrated throughout this year when she went above and beyond to not only look after her Year 1 class, but she managed to look out for both the Kindergarten and Year 2 classes. Her attitude and approach during Stage meetings were especially helpful when she made sure she really took in each teacher's feedback and opinion to then find the best solutions for issues raised.
Cassandra Quast from Annandale Christian College
It has been highlighted that Cassandra took ownership of organising staff and students with their digital learning access during a chaotic time for Annandale Christian College. Cassandra went above and beyond to help students, parents and teachers in her own time with no complaints. This extra help gave everyone confidence and reassurance that everyone at Annandale Christian College will make it through 2020 with positivity and strong outcomes.
Creative Educators of 2020
Melinda Sonno from St Gerard's School – Dandenong North
Melinda's exceptionally brilliant mind was of great help to all students and teachers at St Gerard's School – Dandenong North. She managed to create an environment that allows students to make connections between learning concepts and imaginable ideas. Her creativity was especially appreciated during Book Week where she created a maths activity that was linked to a picture storybook. This incorporated questions about the context of the story as well as numerical questions about the events within the book. Students were highly engaged at Book Week and enjoyed being challenged to look for a pattern.
Donna Steffens from Grantham State School
Donna's determination and focus helped teachers and students at Grantham State School through the toughest time of the pandemic. Her attitude and approach were always positive and solutions-focused. Donna took on tasks outside her role with creative solutions to help students and teachers at Grantham State School.
Adele Lockman from Association of Independent Schools of NSW
Adele uses her creativity in her job on a daily basis by designing high-quality and engaging face-to-face Professional Development courses to teachers across NSW. Her passion for improving student outcomes around literacy, numeracy and students with additional needs shines through videos and animations during training courses. With a background as a Visual Arts Teacher, she does not fail to impress and wow the teachers she presents to.
Adele was part of an emergency formed team dedicated to providing professional support to Independent schools with learning from home resources. She has organised a website portal filled with helpful links, information and activities for teachers and students. Adele brought teachers across the state together with her podcast and webinars that shared the same experience during the pandemic lockdown.
Motivational Leaders of 2020
Barb Mead from Brisbane School of Distance Education
Bard has transformed the way the school approaches literacy. Thanks to Barb, teachers at Brisbane School of Distance Education are now using an interactive learning hub where teachers track student data with the use of evidence-based practices to improve English literacy. This has shone a light on how individual students are improving in literacy and enabled consistent communications between students, teachers and parents. Barb has demonstrated determination with her resourceful initiatives which allowed teachers to work collaboratively and effectively. Students in P-6 are thriving in Barb's phonics, reading and phonological awareness groups. Barb's enthusiasm for literacy has inspired many others at the Brisbane School of Distance Education.
Alicia Foley from Australian Christian College – Moreton
Alicia is always willing to go above and beyond to support her staff with throught-out strategies to improve the culture and working environment. Her positive attitude is reflected in her leadership skills where she is always willing to lend an ear with a positive attitude. No issues are too big for Alicia, she takes on each challenge with ease and poise. Despite a tough year for everyone at Australian Christian College – Moreton, she is always inspiring and motivating all teachers to do better and ensures they are supported.
Alex Wharton from Carinya Christian School Gunnedah
Alex is an educational leader that has successfully transformed classrooms at Carinya Christian School Gunnedah with determination to improve student outcomes. One of the projects he has led was designing a COVID-19 online learning framework to maximise student outcomes using evidence-based techniques from the Australian Institute for Teaching and School Leadership Limited. Using this technique, Alex has increased student work submissions from 40% to 90% which incorporated a "must do" and "can do" approach formulated around curriculum mastery.
Unsung Educational Heroes of 2020
Natasha Puddle from Freshwater Christian College
Natasha has done a spectacular job helping her co-teaching partner at a time she needed it the most when she broke her leg. Not only did she fulfil her role as a co-teaching partner but she has gone above and beyond for the students and parents. During a time where it was quite challenging for parents to manage home learning with their children, Natasha took time out of her day to resolve any IT issues at home and at the same time consoling parents who were going through a tough time. Natasha has also surprised a student on his birthday by arriving at his doorstep with a birthday gift and sang him a song. These are just some of the examples that show how Natasha has gone above and beyond for her students and their parents.
Madia Schatz from Sattler Christian College – Bees Creek
Madia has displayed passion and dedication to her job as an educator at Sattler Christian College – Bees Creek. This was shown through her work inside and outside of the classroom. Madia took time out of her schedule to create a warm learning environment by decorating the classroom in celebration of individual characters in the class as well as celebrating the topics learnt by the class as a whole. Madia's resourceful nature enabled her to use different programs to help her track student improvement and progress. Due to the cancellation of the Annual School Camp at Sattler Christian College – Bees Creek, Madia went out of her way to play a 3-day activity with the students to substitute the Annual School Camp which involved organising bushwalking with a WW2 historic focus at Charles Darwin National Park, challenges at Howard Spring Reserve and a scavenger hunt at the local shopping mall. There is no challenge too big to overcome for Madia, her can-do attitude is infectious to people around her.
Jennifer Hearnes from St Mary's Primary School Bairnsdale
Jennifer's compassionate nature has made a huge impact at St Mary's Primary School Bairnsdale. Jennifer teachers 3 days per week and takes the lead as the school's Learning Adjustment Leader the other 2 days a week. Her work in both roles has shown real student progress and improvement. During remote learning, Jennifer created personalised workbooks for students who were struggling. Each of these books catered to each individual student's interest to ensure engagement. Students were also motivated by Jennifer with rewards for each achievement and time spent on the digital platform. There was no time limit spent on each child for Jennifer, she wanted all children to do well and they certainly have this year. Jennifer's caring and empathetic nature have unable her to assist students with social and behavioural problems in such a way they believe they have solved things themselves. Her work has inspired teachers across the school to do the same.