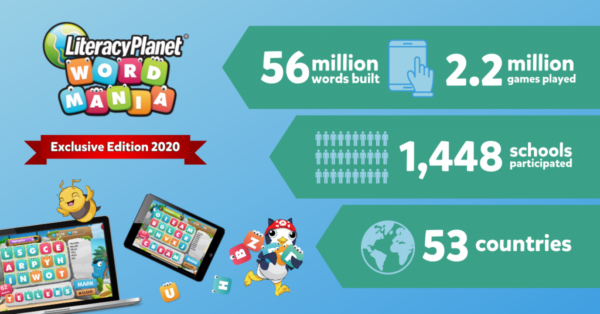 LiteracyPlanet's Word Mania "Exclusive Edition 2020" has wrapped up with a bang! A total of 1,448 schools from 53 countries around the world joined in for 5 dynamic weeks from 25th May to compete for certificates and prizes. It was a close competition with over 56 million words built and 2.2 million games played!
This year, we decided to conduct the competition for a very special reason as explained by our Customer Success Manager, Renee Rooney:
"We wanted to run Word Mania this year exclusively for our partner schools to show our appreciation for being a part of the LiteracyPlanet family. And our team also wanted to show their heartfelt support for these schools who are teaching remotely during this uncertain time."
Word Mania has proven to not only improve word-building results over time but it has always been the most popular activity amongst children. The competition involves students in Years 1 to 9 to think outside of the box and create as many words as they can in three minutes, from 15 randomly generated letter tiles.
But Word Mania is not just a fun activity for students to participate in. It also helps develop important literacy skills including phonics, word families, rhyming and root words, affixes, spelling, vocabulary, word recognition, and word knowledge.
Congratulations to the top-performing schools:
1st place: Toorak Primary School (Victoria, Australia) — Year 1
2nd place: MSB Private School (Dubai, United Arab Emirates) — Year 1
3rd place: Birla High School-Junior Section (Kolkata, India) — Year 1
1st place: Waverley Christian College (Victoria, Australia) — Year 2
2nd place: Birla High School-Junior Section (Kolkata, India) — Year 2
3rd place: Hazel Glen College (Victoria, Australia) — Year 2
1st place: Waverley Christian College (Victoria, Australia)  — Year 3
2nd place: All Saints Grammar Belmore (New South Wales, Australia) — Year 3
3rd place: St Joseph's Catholic Primary School Como-Oyster Bay (New South Wales, Australia) — Year 3
1st place: Waverley Christian College (Victoria, Australia)  — Year 4
2nd place: Sacred Heart College (Tasmania, Australia) — Year 4
3rd place: Aspley State School (Queensland, Australia) — Year 4
1st place: Waverley Christian College (Victoria, Australia) — Year 5
2nd place: Aspley State School (Queensland, Australia) — Year 5
3rd place: St Mary's Primary School (Western Australia, Australia) — Year 5
1st place: Waverley Christian College (Victoria, Australia) — Year 6
2nd place: Aspley State School (Queensland, Australia) — Year 6
3rd place: St Mary's Primary School (Western Australia, Australia) — Year 6
1st place: Beaconhills College Berwick-Village Campus (Victoria, Australia) — Year 7
2nd place: Kolbe Catholic College (Western Australia, Australia) — Year 7
3rd place: Cleveland District State High School (Queensland, Australia) — Year 7
1st place: Beaconhills College Berwick-Village Campus (Victoria, Australia) — Year 8
2nd place: St Andrews Lutheran College (Queensland, Australia) — Year 8
3rd place: Court Grammar (Western Australia, Australia) — Year 8
1st place: Jebel Ali Secondary School (Dubai, United Arab Emirates) — Year 9
2nd place: Granville Academy (England, United Kingdom) — Year 9
3rd place: St Brendan Shaw College (Tasmania, Australia) — Year 9