Word Mania is one of our favourite times of the year. To have so many students spelling and improving their literacy ability is always one of the big highlights of the job for the LiteracyPlanet team. And this year the usage has been incredible.
We're still in the first few weeks of the Practice Round, but out of curiosity we decided to crunch the numbers and see how many students in Australia and New Zealand were using our competition. And we couldn't be more impressed with the results.
We were so impressed with the figures we decided to create a Word Mania report card, which you can view yourself below. The numbers are boggling!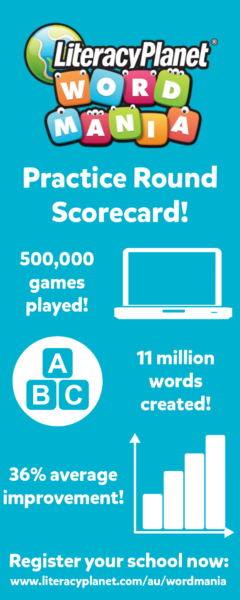 Over 500,000 games have already been played and we're not even halfway through the Practice Round. What's even more impressive is the fact that students have created more than 11 million words as part of the competition.
Each year we seen an average 36% improvement in the average game score for Word Mania schools, and these statistics bode well for another successful competition.
Not too late to get involved!
Word Mania is free to participate and get involved in all rounds including the finals! Here are the key competition dates you should know about:
Practice Round – Thursday, May 23 to Sunday, August 9
Competition Round 1 – Monday, August 12 to Friday, August 16.
Competition Round 2 – Monday, August 19 to Friday, August 23.
Final Round – Wednesday, August 28 to Friday, August 30.
We're still in the early stages of the competition and it's free to register, so sign up today and join the biggest, most fun online literacy completion in Australia!