Word Monster packed his overnight bag and travelled to Alice Springs to congratulate the teachers and students of Living Waters Lutheran School, for their spectacular effort for Word Mania 2015.
Living Waters' students flexed their word building skills to earn the highest school score, putting Living Waters in first place out of 1,300 schools with a combined total of more than 100,000 students competing around Australia, to take the title of National School Winner for Australia's biggest online literacy competition, LiteracyPlanet Word Mania 2015!
For such an amazing effort the school won $4,000 to spend on IT supplies, a $1,500 library pack from Australian Geographic, LiteracyPlanet subscriptions for all students and the National School Winner trophy.
The schools' participation in Word Mania 2015 was instigated by teacher librarian Kate Worrall, who has an impressive record of involving the school in academic competitions with extraordinary success. Kate's amazing efforts have helped Living Waters win $7,000 in prizes this year, as well as the prizes for Word Mania 2015.
Kate had involved the school in Word Mania in 2013: "Within days students were coming and telling me how amazing the game was, parents were having to stop their children from practising their spelling and a few of the older students were sneaking an extra hour in spelling after bed time!"
So when Word Mania was on again in 2015, Kate was keen to get the school involved again: "Knowing how busy classroom teachers are, I set up class accounts and individual log in details for all students in Years 1 to 6, and issued them just prior to the practise rounds. If we thought our students loved it last time, it was nothing compared to the enthusiastic response this time. With the increased availability of iPads in the classrooms and the Word Mania app, teachers were able to allow students to play during literacy rotations and in free choice sessions where the students were choosing Word Mania."
Throughout the competition many students made it onto the top 10 in the individual leaderboards. Two students, Danny Joe in Year 3 and Benedict Syam in Year 4, finished in the top two for their year levels overall, and travelled to Sydney to compete in the Word Mania 2015 Individual National Final.
"We were so proud to become NT champions, and to be able to send two students from Central Australia to Sydney for the finals was a real highlight for us. We are so proud of Benedict and Danny but also of all the other students who played many, many hours which allowed the school to take the National title. Of course the books and the ICT prizes made my year. They will allow us to continue to enthuse our students about books and learning for years to come," said Kate.
"As an educator I have rarely come across a game that absorbs the attention and time of such a cross section of age groups in a school and is of such benefit to their learning at the same time!"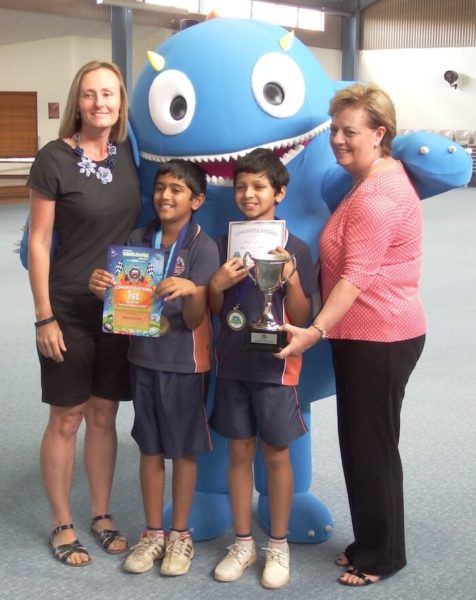 Above: Word Monster presents the trophy for National School Winner to Living Waters' Teacher Librarian Kate Worrall (left), Principal Eunice Stoll and the school's two Word Mania 2015 individual national finalists Danny Joe and Benedict Syam.
Below: Word Monster wows the crowd, and enjoys the sights in Alice Springs.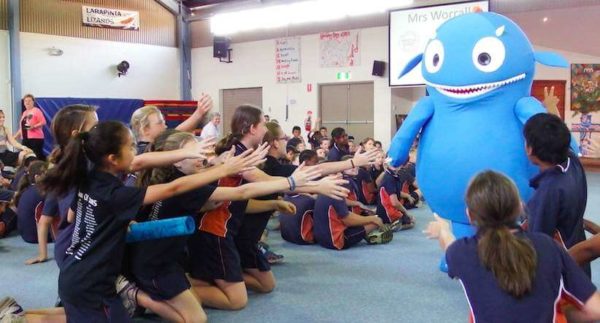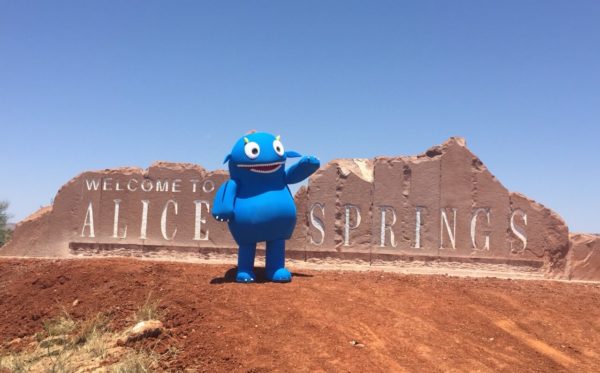 See Living Waters' students interview with Word Monster for the schools 'Living Waters News'.