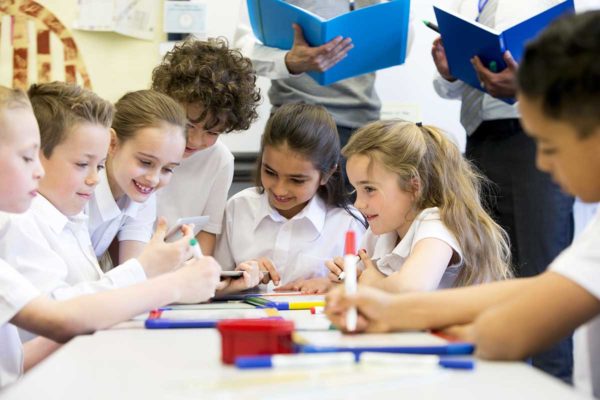 Differentiation is fundamental to modern teaching standards. By acknowledging the diversity of the learning experience, educators can provide a better learning environment for their students.
Discover what the experts have to say with these 10 tips for personalising your lesson.
1. Using playlists to differentiate and personalise
Teacher Tracy Enos shares her unique method for individualising the student learning experience by providing a 'digital playlist' for each student. Everyone has access to the same resources and goals, but students are encouraged to approach them in their own order:
"A playlist is basically like a road map. I started using them in my classroom when I looked at my room full of 26 students and I saw the variety in their abilities. I knew I needed something different so that I could meet the needs of each one of those kids. Instead of just saying, 'OK, everybody, we're going to work on this lesson today,' I needed to individualize it so that different kids are working on things that they needed."
2. Asking 'depth of knowledge' questions
The educators at Adventures of Room 129 have a whole range of ways to differentiate in the classroom, but one technique in particular stands out. Based on Bloom's Taxonomy and Webb's 
Depth 
of 
Knowledge, the model looks to ask questions over 4 levels of knowledge; recall, skills and concepts, strategic thinking and extended thinking. This allows teachers to engage students in a variety of ways so as to promote more comprehensive engagement across all skill levels. See how Depth of Knowledge techniques can be applied in the classroom through the diagram below.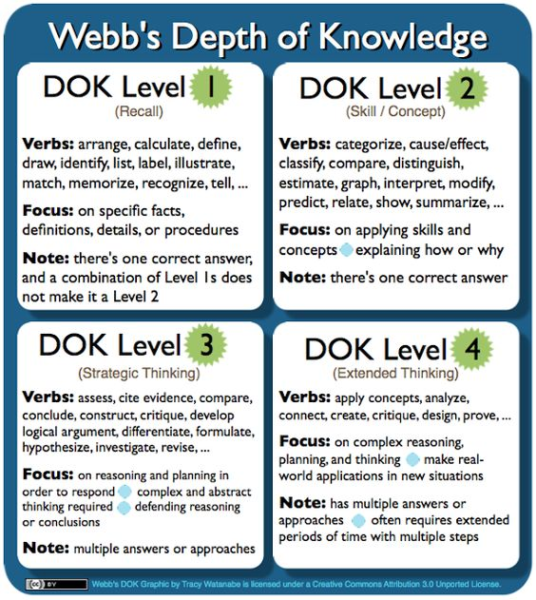 Diagram via Pinterest
3. Implement a think-pair-share strategy
The Think-Pair-Share strategy from the International Literacy Association is designed to differentiate learning through allowing students time and structure to think on a given topic, enabling them to formulate individual ideas and then develop these through sharing with their peers. This strategy exposes students to three experiences in one learning activity:
Ask students to think on their own about a question or activity.
Next, pair them up and have them share their experience with another classmate.
Now, have each pair share their experiences with the rest of the class. You can also open up the floor to discussion.
Think-Pair-Share helps students develop conceptual understanding of a given topic, consider other points of view, and subsequently draw conclusions.
4. Differentiating on outcomes
BBC Active suggests that one way an educator can differentiate their teaching style is through acceptance on a diversity of outcomes. By providing the same task or question to the whole class, but recognising there are multiple successful answers, teachers can accommodate the diversity of experience among students.
While this has been accepted in fields like literature study for a while now, BBC Active suggests it is possible in a number of subjects, provided clear guidelines are outlined prior to the activity.
5. Visual learner infographic
Are your students visual learners? This visual aid from E-Learning Infographics presents a clear picture of the importance of differentiated learning for students. We all come from different backgrounds, have different learning abilities, needs and cultural experiences. For both the educator and the student, this infographic is an invaluable resource.


Find more education infographics on e-Learning Infographics
6. Stimulate the 5 senses
Education resource Edutopia suggests stimulating all the senses of students. This helps provide adequate learning opportunities for different learning types, such as tactile, auditory and visual learners. Suggestions include:
Using physical objects and props to support maths classes
Using picture cards to support vocabulary lessons
The article has 18 different strategies for personalising your teaching environment. Presented in slide format, it's a simple and helpful resource for teachers of all age ranges.
7. A student perspective
Are any of your students auditory learners? This perspective on differentiated learning by student Ilana Vines at TedxYouth might be useful for your classroom. Ilana talks about the importance of personalisation and differentiation for students and suggests some strategies for teachers and educators to keep their classes engaged without compromising on different learning styles.
8. Don't compromise on quality
It's essential teachers understand that differentiation doesn't mean having lower expectations for some students. Understanding how to provide different strategies for diverse learning types while maintaining a quality education and outcomes is no easy task. Fortunately there's useful resources, like this one from Teacher Magazine, an Australian based resource that tackles the hard questions around personalisation for teachers. As the author states:
"The real challenge lies in how to differentiate curriculum and learning activities without increasing and perpetuating an achievement gap between able and less-able students.<
By understanding the main challenges to differentiated instruction, teachers are better able to formulate lessons that cater to the whole class's learning preferences.
9. Keeping up with standards
Still not sure how to differentiate? The NSW Education Standards Authority offers a number of helpful guidelines to assist teachers with differentiated programming, including:
Developing individual learning goals
Providing a variety of materials to stimulate different learning types
Tiered or levelled activities
Open-ended questioning
Both group and independent study.
Conduct fair and flexible lessons with differentiate learning
Are you prepared to provide your students with an education that is both personalised and of high quality? Use these expert tips to develop fair and flexible lesson plans that cater to your students' individual needs.