Two big things have happened in LiteracyPlanet this week. The introduction of a free membership level and a new tool that will change how you determine students' literacy proficiency. Let's explain why you might love these changes.
Free access to literacy education with LiteracyPlanet Starter
Introducing LiteracyPlanet Starter – the free and fun way to teach literacy. LiteracyPlanet Starter offers free membership for all teachers and students of English literacy, worldwide.
At LiteracyPlanet we believe inclusive and equitable quality education is a right for youth everywhere. So, it's time to shake things up. It's time more students had access to important learning tools.
With LiteracyPlanet Starter, you access an enriching teaching and learning experience. 
Free membership

Add up to 30 students

Unlimited Literacy Checks

Unrestricted educational content for students including our popular Intrepizine

Curriculum-aligned and gamified learning content

Student activity reports

Class leaderboard
When LiteracyPlanet was founded more than 13 years ago, we envisioned producing a learning tool for all students of English literacy. Regardless of their proficiency, where they live or the type of education system they're in. Making LiteracyPlanet free to all teachers and students worldwide is a giant step in this vision.
There are now three levels of LiteracyPlanet membership:
LiteracyPlanet Starter – free for one teacher and one class
LiteracyPlanet Pro – upgraded features for one teacher and one class
LiteracyPlanet School – full access for multiple classes, multiple teachers or a whole school

Literacy Check – the literacy proficiency tool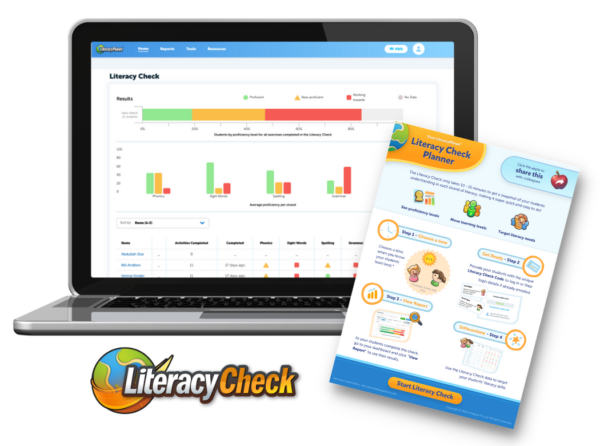 Wouldn't it be nice to know exactly where your students are with their literacy skills?
Identify your students' proficiency across each literacy strand in less than 30 minutes with the free Literacy Check. 
This online tool built into your dashboard uses LiteracyPlanet's fun and engaging activities to check each student's literacy skills. Students love it—it's more game than test.
Literacy Check how-to for new customers
Step 1: Set up an account, following the steps to do Literacy Check
Step 2: Give your students your unique access code
Step 3: Students play activities that will test their literacy proficiency
Step 4: Teachers review the Literacy Check Report with valuable individual insights
Step 5: Set personalised learning journeys for each student
Existing customers should look for the Literacy Check Assign option in your Tools menu and assign the Literacy Check to your registered students. It works exactly the same from there.
We know quality learning needs measurement and to deliver a quality literacy program we need to analyse, anticipate and assess learning outcomes. Use Literacy Check as a guide to your choice of the thousands of activities, learning content and resources in LiteracyPlanet. 
Literacy Check is now live and free for all LiteracyPlanet customers to use. 
They say the best things in life are free. The LiteracyPlanet team agree! Get your students started for free today.

> Literacy Check Quick Start Guide
> Literacy Check Planner
> Literacy Check Concept Overview