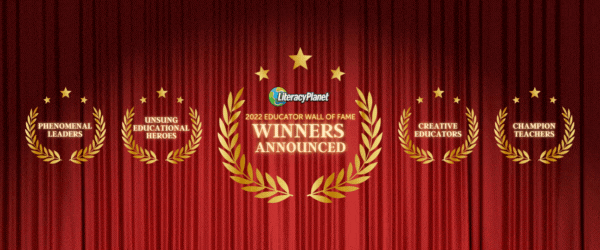 As 2022 presented the opportunity for schooling to go back to a semi-normal situation, one thing that's very clear is that educators the world over stepped up. You created new and fun learning opportunities, you provided a level of care that only teachers can, you stood up and made the education of your young charges a priority and you did it with all the pressures that come with such responsibility.
It's our great privilege to recognise some incredible educators from 2022 who deserve to be known as Wall of Famers. After reading through hundreds of quality entries from schools around the world, we've narrowed it down to this year's winners. Congratulations to these 2022 Educator Wall of Fame winners who have inspired the whole LiteracyPlanet team, and no doubt, our entire community.
CHAMPION TEACHERS
The outstanding teachers of 2022 who have motivated students and sought the best ways to deliver fun, engaging and inspirational lessons either in the classroom or online. These teachers are there for their students no matter what.
DEREK DAVIS
North Valley Academy – Gooding, USA
Mr Davis focuses on teaching his students how to advocate for their own learning styles and cultural background. His students are growing academically, personally, and emotionally at a high rate, bring comfortable enough to question others, advocate for their own personal needs, and immerse themselves in a classroom where social-emotional needs are front and center. Mr Davis' classroom is known to be innovative and one that tailors instruction to each student, including his revolutionary Learning Lab that works with the school's community, and regular STEM challenges that involve team building, collaboration, creativity and marketing (ask him about his juicing project!). 
DULCE MESSANO
Aga Khan Academy Maputo – Matola, Mozambique
Dulce has sought new and innovative ways to constantly support her class of kindergartners at AKA Maputo. She has pushed herself to learn more, know more and understand more to develop her own, the school's and the wider community's understanding of literacy. This is no mean feat in Mozambique where literacy rates are some of the lowest in the world. Dulce has innovated phonemic awareness to operate in two languages, learned new approaches to developing early reading, and worked to support both her students and her colleagues tirelessly. Her classroom is passionate, supportive and most of all a place where everyone loves to learn and is supported to do so.
LAXMI S
Sushila Birla Girls' School – Kolkata, India
Economics teacher Mrs Laxmi S has taken a positive attitude throughout the worst of the pandemic times to have developed a renowned hybrid model of learning that has changed the face of teaching at her school. Focused on effective pedagogy, Mrs Laxmi S delivers a rich learning experience for her students through correlation and integration which consistently get rave reviews from her classes. Always looking to improve herself and her teaching methods, Mrs Laxmi S is certified in a number of tools that make her lessons more interesting and interactive than many others. A holistic approach to education is a priority for this teacher who ensures her students strive for development in both academic and co-curricular fields, including financial literacy, entrepreneurship and future readiness. 
ISABELLE SHELTON
Calvary Lutheran Primary School – Morphett Vale, Australia
Isabelle is described as a lighthouse educator in her Junior Primary teaching team. An engaging, reflective and caring educator, Issy embraces and implements best practice across her teaching. A trauma-informed practitioner who builds relationships and connections with students, families and colleagues, she demonstrates care beyond the duty of her role. Issy has been a leader amongst staff not only in her practise but in her reflective approach and willingness to collaborate and share with others, for the benefit of students beyond her own class. Issy embraces challenges and all that the role of an educator in 2022 entails, including consistently, professionally and passionately advocating for students from various backgrounds with a diverse range of needs.
TESSA SUCKOO
First Baptist Christian School – George Town, Cayman Islands
Tessa is an innovative teacher who regularly integrates STEM and real-life connections into her literacy instruction. Her Grade 4 students thrive and grow in her class, and she has been nominated in school inspections as a Master Teacher. Examples of how Tessa works with students to draw comparisons between their literacy studies and real-world knowledge include teaching students the process and benefits of composting, up-cycling artwork, and real-life applications of creative works mirroring novels being studied. Tessa also leads the after-school Book Club, in which students have raised money for charity as part of their studies.
JACOB WAY
Tianjin International School – Tianjin, China
Mr Way is a champion of his students, his content, and his leadership in the Secondary School at Tianjin International School. He is dedicated to enriching the educational experience of his students through the classroom as well as directing the Model United Nations programs in middle and high schools. He also leads students on their annual spring trips which tour students around China to learn about the nation's people, and their own relationships and development. Known to always have an open door, Mr Way has time to encourage and support colleagues and his students in a very personalised way. His students' continued success during times of online instruction is a testament to his dedication and individual connections.
CREATIVE EDUCATORS
Dedicated to the behind-the-scenes genius who helps orchestrate the show—whatever that may be! This award is for the most creative educator, whether they're a curriculum leader, a teacher's aide or band master.
HOUDA BELBACHE
American School of Creative Science – Sharjah, UAE
French Teacher Houda was nominated for her out-of-the-box creativity she uses running her class. She blends extra-curricular subjects into her teachings. Houda integrates Fashion and Design in her French Class where students design and sew their creations. She also includes Home Economics in one of her chapters, as well as Technology. Houda focuses on encouraging her students in the development of their critical thinking skills to look at learning French in different and more lids-applicable ways.
MAREE FORD
St Ursula's College – Toowoomba, Australia
Maree is a creative educator whose classes reflect her firm understanding of pedagogy that supports the learning needs of many. She is creative in her approach to assessing students and looks to find ways through technology to enhance the learning of students. Maree places students into real-world contexts that require them to respond to the needs of 'real' clients. This approach to real-world learning has meant that she has designed curriculum to support the Australian Curriculum but has given students complex and creative experiences that extend and enrich their understanding of their subject area. Maree has also lent her skills and time to the College musical, tying-in assessment to costume design. It's common for Maree to leverage goings-on in the school and apply them to her own teaching, a true sign of an innovative spark!
MAIS HABEEL
Arcadia School – Dubai, UAE
Mais, an Arabic teacher, works tirelessly to ensure her students continue to achieve more on a personalised level. Mais' students clearly love her classes – they are always working like busy bees, and the chatter in her class is refreshing. Mais' creativity is boundless. She has encouraged more conversational Arabic skills by organising an event for students to bring to class food from their home country. This led to the development of an online menu and a task for students to sell their food in Arabic. It created opportunities for real-world chatter about allergies, likes and dislikes and cultural lessons. Mais thinks beyond the curriculum to deliver engaging and fun lessons that have meaning and still achieve learning outcomes.
LEISA KIRKEGARD
Brisbane School of Distance Education – Brisbane, Australia
Driven by the belief that every student can learn, Leisa responds to the diverse learning needs of all students. Leisa continuously collaborates with classroom teachers and is integral in ensuring differentiated teaching and learning occur throughout the school. In this work, Leisa uses concrete materials and tiered tasks are provided for students working below level, sending home additional resources and sources for students to better engage with their learning. From students who are unwell, non-verbal, or with a multitude of other learning difficulties, Leisa has helped them to learn to read and understand their work. The application of appropriate teaching strategies, assistive technology and learning tools, and her dedication to the success and love of learning for every child makes Leisa a deserving recipient of the Creative Educator award.
MS WATTS
College Francais Bilingue de Londres – London, UK
Ms Watts, an English teacher, is recognised for going above and beyond to create unforgettable projects and lessons for her students. From the "Comma Carnival" (including popcorn and the sound of rides and crowds at a fun fair) which saw students take part in carnival activities related to grammar, to immersive escape room games to learn about Shakespeare. Ms Watts' "Day of the Dead" project for her year 8 students was a hit around the school as a celebration of poets and poetry, decorating the canteen and dressing up. These lessons are memorable, engaging and fun for students. They lead to a more fulfilling learning experience for all students who are lucky enough to be taught by Ms Watts.
UNSUNG EDUCATIONAL HEROES
The quiet achiever who always works with passion, care and empathy. Never one for attention, this person is the one who genuinely deserves recognition for their tireless and appreciated efforts.
JUSTINE HENNESSY
Dunton Green Primary School – Sevenoaks, UK
Justine's priority is to support pupils, families and staff in her school community. She knows and responds to each individual's needs with so much enthusiasm, care and compassion and nothing is ever too much for her. Her nominator told us "I genuinely could not do my job without her." Justine expertly deals with difficult conversations, which has restulted in her gaining students' trust. Her role increased enormously over the past two years, which included her securing funding for year 6 residential places, organising food parcels, counselling services, daily drop-ins for children with anxiety, speech and language support and so much more (ask her about the special fishing sessions!). Justine is the difference between children becoming school refusers or receiving multiple exclusions and succeeding. 
LAUREN HOWDEN
St Mary's School, Waverley – Johannesburg, South Africa
Lauren's commitment and vigour with which she works makes her a worthy winner as an Unsung Educational Hero. Lauren has developed the school's new reporting structure that assists her fellow teachers to help students deal with conflicts in the classroom, or between friends. While protecting teachers, it gives the students an opportunity to voice their grievances and allows the development of strategies for the team. Lauren's tireless work in creating a diversity committee cannot be underestimated. As a school based in South Africa, processes for handling diversity are critical, and Lauren's work has boosted inclusion in the school. And if this wasn't enough, Lauren also works in an outreach program on Saturdays where she teaches English to underprivileged students.
MICHELLE JEFFRIES
Desert Sky Middle School – Tucson, USA
The words 'above and beyond' are synonymous with Michelle. For both her students and peers, Michelle happily takes on any challenge, often volunteering her time and expertise. Recently taking on mentoring new team members, she devotes her time to ensuring the development of the new generation of teachers. And as a colleague put it, "If a situation will directly benefit student achievement, you can bet Michelle is involved." Michelle also runs the school's GRIT (guts, resiliency, integrity and tenacity) program, meeting with students to promote a school-wide culture of hard work and persistence. Student rewards and recognition are a high priority for Michelle, as she works tirelessly to ensure every student is seen in a positive light.
SALLY PARSONS
Chaffey Secondary College – Mildura, Australia
As the school Assistant Principal, Sally is recognised for having changed the trajectory of the lives of young people in her community, through the connections and relationships she has built. She centres her work on improving the learning outcomes of students in her care, as well as empowering them to take responsibility for their own learning. In particular, her work with First Nations students and other disadvantaged groups is unprecedented in this community. Data reflects these efforts in both learning and well-being aspects, outperforming other schools across the state. Sally is not just a leader within the school, she is a leader in the community, rarely being recognised for the immense impact she has had on students and teachers alike, and therefore deserving of this recognition.
LANA WRIGLEY
Stopsley High School – Luton, UK
Lana's passion is encouraging all students to read. She is extremely patient with weak readers and this year established—and continues to run—the school's Reading Partners programme, giving older students the opportunity to support younger students. Not only has the programme helped younger students to improve their reading, but it has also built confidence in the older students' leadership abilities. Continuing her mission, Lana also manages the Accelerated Reader programme, something that helps her to identify gaps in students' reading skills. Lana is a real Unsung Education Hero as far as we're concerned!
PHENOMENAL LEADERS
Those school principals, deputies, assistant principals and other senior leaders who have gone above and beyond. They have led the school by example, implementing measures to ensure the continuity of and excellence in education.
CATHERINE HARTLEY
Fitzharrys School – Abingdon, UK
Over the past year, Catherine has worn two important hats, expertly running her department, whilst also leading Teaching and Learning across the curriculum. In doing so, she has created new initiatives, consulted with staff, created the infrastructure that underpins them and modelled them with incredible humility, generosity of spirit and creativity. Catherine is an exceptional teacher. The students fortunate enough to be taught by her experience the same intelligent, thoughtful, insightful, and practical brilliance that those fortunate to work with her also see. Her creative problem-solving, good humour and excellent communication skills make her a joy to work with and the best of role models, both to students and colleagues. Her colleagues wanted her to be recognised for the enormous contribution she has made to the school.
SAMANTHA LIND
Bardia Public School – Bardia, Australia
Samantha Lind is a valued member of Bardia Public School's leadership team. Samantha has been instrumental in supporting the school to implement and monitor the School Improvement Plan. She builds the capacity of others by providing shoulder-to-shoulder support through lesson demonstrations, team-teaching opportunities and coaching and mentoring. Samantha is deeply committed to enriching the learning experiences of students, leading innovation, improvement and change in the area of gifted and talented education. In doing so, Samantha has applied her deep understanding of curriculum to support staff to embed rich learning tasks into their practice. The impact of her leadership can be seen through the school's STEM team's success at the 2022 International Tournament of the Minds Competition.
DOUGLAS MCPHERSON
International English School Kungsbacka – Kungsbacka, Sweden
Principal McPherson started this school last year, literally helping build it from the ground up. Beyond the buildings, he has personally created a wonderfully supportive and happy team of teachers, about 100 all up! Determined to be visible and actively involved in the school, Douglas has worked tirelessly to build relationships with students and to assist teachers in their roles. You will often find Douglas in between meetings working amongst classrooms where he and students can see one another. He is known as a motivating and supportive leader, already getting great results out of his students!
KATE STEWARD
Ormiston South Parade Academy – Grimsby, UK
Dedicated to making her school a happy, caring and safe environment in which to learn and work, Kate ensures every child, staff member, parent and carer feels welcome and heard. Known to always have an open door, what student wouldn't want the chance to be invited to hot chocolate and biscuits with the Principal, a programme that boosts confidence and encourages a learning mindset? Kate's relationship with school parents is also critical, ensuring they are involved in important events and ceremonies throughout the school year. Despite taking some maternity leave this year, Kate has continued to be a presence for all school community members. Dedication is certainly a prominent quality of Kate's, making her a popular winner of this award.
JOANNA WILDASH
GEMS – Smart City Kochi, India
Joining the school in the middle of an academic year, Joanna has inspired a shift in the mindset of students, parents and staff towards one of improvement and high performance. Joanna has an incredible ability to recognise the myriad abilities, gifts and talents that exist in a school community. The school's most recent Post-16 results have shown significant improvement as a result of Joanna's contribution. This has been coupled with Joanna prioritising the appointment of career guidance and the roll-out of a stronger student voice. Joanna is clearly in this role for the passion she inherently holds for preparing students to be confident and important contributors to society. She is a highly regarded member of the GEMS team and a school leader most admired.