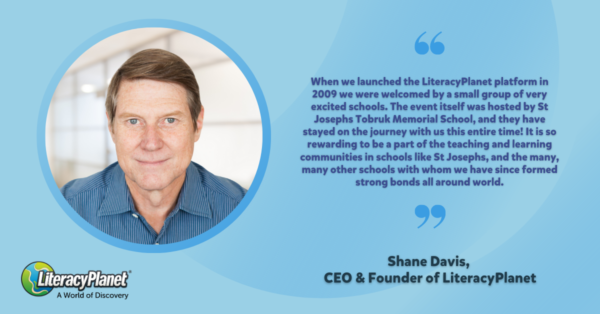 LiteracyPlanet turns 11 this September! On the 15th of September, 2009, LiteracyPlanet made its mark on schools across the country.
Since 2009, LiteracyPlanet has expanded into the US, UK and international markets and we are now teaching English literacy skills in over 100 countries across the world.
Over the past 11 years, we have had support from schools, teachers and students across the globe to help make LiteracyPlanet shine. We thank you all for being part of the journey and we thank the dedicated staff for helping to build the community we now all share.
"When we launched the LiteracyPlanet platform in 2009 we were welcomed by a small group of very excited schools. The event itself was hosted by St Josephs Tobruk Memorial School, and they have stayed on the journey with us this entire time! It is so rewarding to be a part of the teaching and learning communities in schools like St Josephs, and the many, many other schools with whom we have since formed strong bonds all around world." – Shane Davis, CEO and founder of LiteracyPlanet.
LiteracyPlanet is evolving. Our new program is underway, thanks to a spectacular development team. The new program includes adaptive elements, enhanced subject strand content, advanced reporting, custom spelling functionality and its built in HTML5!
Our main aim is to continue to improve literacy skills of young people all over the world. This mutual goal, shared between our team and the schools we work with, remains paramount in our company development.
We look forward to what the future holds and will continue to keep providing quality literacy software.