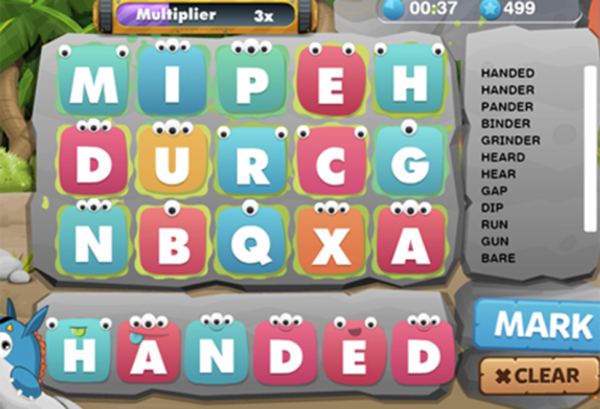 Schools across Saudi Arabia are set to participate in LiteracyPlanet's popular Word Mania competition.
Word Mania is coming to Saudi Arabia, with Saudi students set to join more than half a million students around the world who have played the popular competition over the last 12 months.
Word Mania is a fun challenge based on one of LiteracyPlanet's most popular exercises that test player's word-building abilities. Players are given three minutes to build as many words as they can from 15 randomly generated tiles. And it's not just fun and games; Word Mania has been shown to improve literacy in students while developing a number of handy skills including phonics, spelling, vocabulary and word knowledge.
Saudi students are no stranger to Word Mania, having participated in a special competition in March. Nearly 40 schools registered to play, completing more than 170,000. More than 3.5 million words were spelt correctly by Saudi students and what was even more impressive than the volume of work completed was the significant rate of improvement measured in each student.
Saudi students' Word Mania scores started at an average 331-340 on the first day of the competition. But by the final day, they have reached 668-680. That's a 100% improvement in just two weeks of competition.
Interestingly, Saudi students improved their scores at a rate significantly greater than their international counterparts, who only improved their scores by 20.5% in the same period of competition.
Round 1 of the competition will commence on Sunday, October 28. After two rounds of competition, the final round will commence on Sunday, November 11, with the competition wrapping up on November 16.
Based on the success of Word Mania, LiteracyPlanet now has plans to open an office in Riyadh to continue to deliver improvements for Saudi students.
Abdulrahman Alfuraih, Head of English, Ministry of Education Saudi Arabia, said, "Learning and improving English literacy is a key requirement in the Kingdom of Saudi Arabia. Finding a way to engage young students can be a challenge at times, which is why we have been so pleased with the improvement we've achieved through our partnership with LiteracyPlanet."
"We are delighted to continue our relationship with this innovative company."
Adam McArthur, CEO and Managing Director for LiteracyPlanet, added, "We couldn't be happier to see the strong engagement in Word Mania from Saudi students. The real highlight for me and the LiteracyPlanet team is seeing students in a country where English is predominantly a foreign language, the engagement and rate of improvement have been so impressive. We look forward to our continued relationship with the Ministry of Education and the schools of Saudi Arabia."
Word Mania is created by LiteracyPlanet, the most fun and comprehensive literacy programme for schools. It helps build abilities in word recognition, spelling and vocabulary. Visit the Word Mania website to learn more.