In the heart of Phnom Penh in Cambodia, where educational resources are limited, LiteracyPlanet is taking small steps to make a positive impact on the lives of young learners.
Cambodia's history has left a significant void in reading materials. The destruction during the Khmer Rouge regime resulted in the loss of many valuable books, creating an enduring gap in educational resources.
We're doing our bit to help fill that gap and offer some opportunities to disadvantaged students that they might not have stumbled upon otherwise.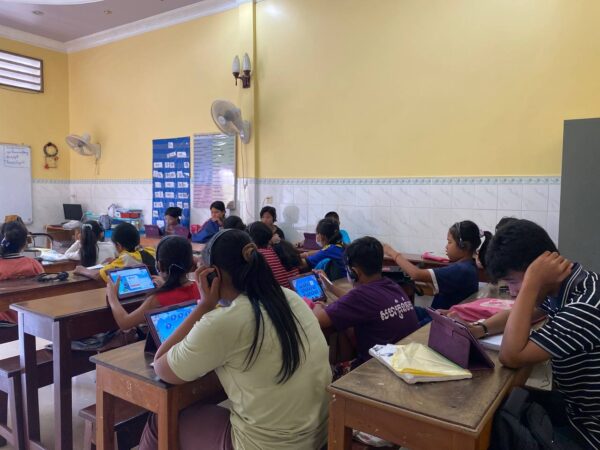 When we first tried LiteracyPlanet as an e-learning platform, our students loved it. This is a real asset for our English program at "Empowering Youth in Cambodia". Our teachers like using the app as much as the students do! – Lou McNamara, Program Manager Cambodia
Literacy And the Ripple Effect of Learning
The impact of Literacy Planet extends beyond simply improving reading skills:
Improved Communication: Engaging with different texts has improved students' communication skills, making it easier for them to express themselves.
Expanded Horizons: With access to a wide array of reading materials, students have gained a broader perspective on the world.
Enriched Vocabulary: The platform's vast vocabulary has equipped them with important language skills.
A Love for Reading: Most importantly, these young learners have developed a genuine love for reading, a passion that will stay with them throughout their lives.
Intrepizine – An Inspirational Resource
LiteracyPlanet's digital magazine for intrepid readers, Intrepizine, is a goldmine of materials that cater to all sorts of interests. Whether it's thrilling adventures, exciting science facts, or stories from faraway lands, there's something to captivate every young learner. This variety means that each student can discover topics they're into and relate to content that resonates with them.
One Student's Inspirational Journey
Poeun Sreypheak's is one student who wanted to share her story with us. Only a year ago, she faced some reading challenges, but with consistent use of LiteracyPlanet over the past few months, her improvement has been truly impressive. Her story beautifully highlights the positive impact of quality education and easy access to reading materials.
In our collaboration with the Matesabroad Foundation and these Cambodian students, we've seen how support and resources can make a big difference in the lives of young students. It highlights the way education can break down barriers and foster a genuine love for learning.
Together, we aim to help guide the learning journeys of students around the world, helping them unlock their full potential through education. Let's continue making a positive impact, step by step.
Learn more about LiteracyPlanet's partnership with Matesabroad.